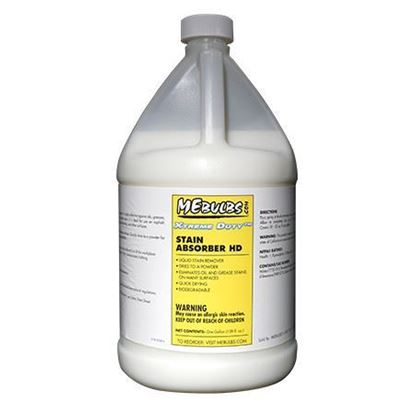 THICK LIQUID - Penatrates surface - Best on hydrocarbon-based oils - No scrubbing necessary
DRIES TO A POWDER - Brush, Sweep, Vaccum Up, or Rinse Away. Biodegradeable.
WORKS GREAT ON - Asphalt, Concrete, Paving Stones, Pressure-treated Wood, Composite Decking, etc.
EFFECTIVELY REMOVES - Oils, Greases, BBQ Grill Stains, Silicone Oils from Tires.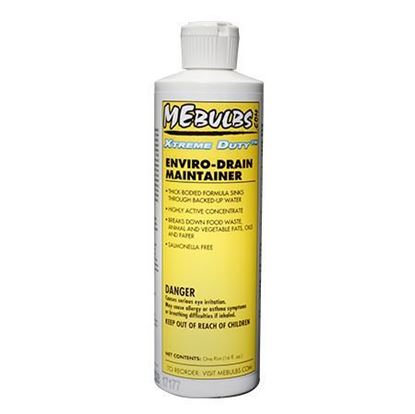 BIO-ENZYME ACTION LIQUID - Non-Caustic, Non-Acidic - Natural action keeps drains flowing - Prevents clogs and build-up of organic materials - Biodegradeable
FAST PERFORMACE - Thick liqud drops through standing water quickly.
USE ONCE WEEKLY TO MAINTAIN YOUR DRAINS - Reduce future problems - Add 1-3oz per drain depending on type of usage - Allow to work overnight for maximum effect
NO HARSH ODOR - Light citrus fragrance
MEBULBS™ has been designing brighter, whiter lights to make businesses and homes shine in a beautiful glow for more than 40 years. But if the surfaces they're shining down on are covered with dirt, stains and grime, then you might find yourself wishing for the old lights. Instead, count on our assortment of liquid cleaning solvents to make any building or landscape look wonderful again. Our engineers have formulated powerful cleaning products that are then manufactured to the highest quality standards for use in auto repair shops, warehouses, offices, apartments and anywhere else you might need a cleaning edge. And they're completely biodegradable, so you can clean your own property without harming others.
Our industrial-quality lamps carry the Xtreme Duty™ logo, and we are proud to attach this same brand to all of our liquid cleaning chemicals. Hydrocarbon oils, grease, organic build-up and septic clogs are no match for these extreme cleaners. Stain removers are useful for everyone from mechanics to cookout fanatics, and our high-quality liquid stain absorber can be applied to asphalt, wood patios, concrete and many other surfaces. Better still, it dries up into a powder as it works, meaning you can sweep or hose it away. Drains are another common trouble spot, and our bio-enzyme liquid can be used to unclog sinks and toilets, or as preventative maintenance.
Many professional cleaners use MEBULBS cleaning products to quickly restore surfaces and appliances as good as new. By keeping a few bottles in your warehouse's janitorial closet or on a garage shelf at home, you can get this same cleaning power in an easy-to-use package. Each product page contains the SDS safety sheet with precautions, potential hazards and other valuable information about using these solvents. Use these U.S.-made cleaners to make surfaces spotless so you can take full advantage of the visual clarity offered by our industry-leading light bulbs and fixtures. In this case, it's all about what you don't see!